CAPTURING THE SPIRIT OF THE WEST IS MY GOAL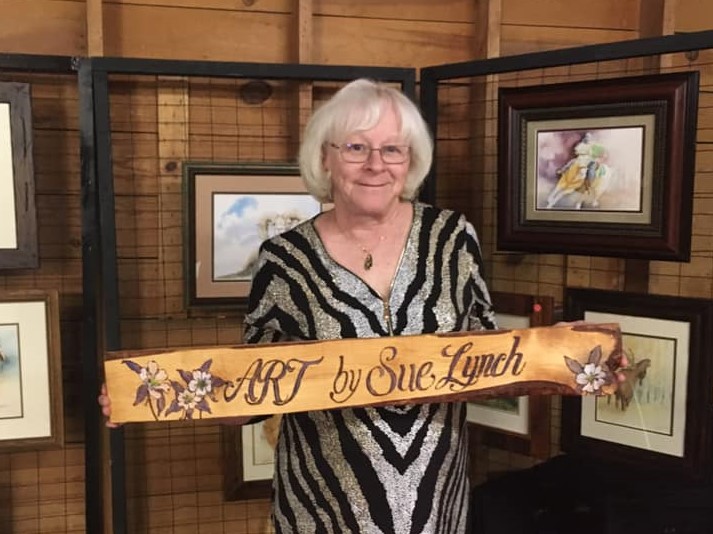 Howdy! My name is Susan Lynch, also known as "Sue". Art is my passion. People often ask me how long I've been doing this and I can honestly say "Since I was first able to hold a crayon." My first memory of painting is when I was in kindergarten. Starting in the 6th grade through high school I attended Saturday morning classes at Rhode Island School of Design in Providence, all on scholarships I received through school art shows. I later attended classes at Cameron University in Lawton, OK, again, mostly on scholarship, where I completed approximately three years working towards a BA degree. At the time I was a military wife and was required to move before I could finish. However, I made the best of my time in Lawton with many accomplishments.
During my time in Lawton , I worked several art commissions including technical illustration, courtroom illustration, miscellaneous newspaper ads and several sports magazine covers. I was also commissioned to do several animal and pet portraits and competed and placed in several art shows.
I have experience in the following mediums: graphite pencil, colored pencil, charcoal, pen & ink, water color, oil, acrylics, pastels, mixed media and printmaking (silk screen, lithograph and etching).
Colorado became my permanent home in 1990. Since then, I have done numerous animal and pet portraits in pencil and prisma color (waxy colored pencil), mostly commissioned pieces. My current medium is water color. But I still enjoy working with pencil and colored pencil.
Although enjoying the freedom of doing subject matter of my own choosing, I am still doing commissioned pieces for clients. So, please feel free to contact me: suesfriends@yahoo.com or 303-503-3895 if you are interested in a personal commission.